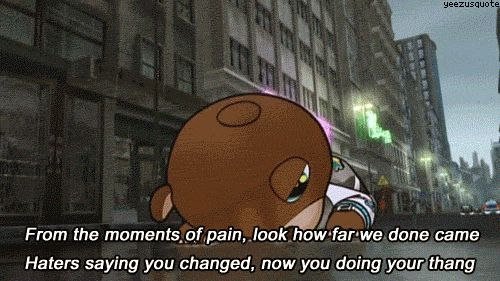 Stepping out of the box is essential to being a well renowned artist. Taking risks is the only way to find out what your limits are and how far they can take you. Today's article is practical from this stand point but far from what you might expect as suggested by the title. Before you read any further please do the following: Take a deep breath..... Relax.... We are not trying to convince you of our points of view. As per any write up on our site, all information we provide is suggestive and up to viewer discretion. Mentioning mainstream controversy is something we opt to avoid, however, this particular moment in history gives the opportunity for life lessons you can't get anywhere else! These might come as a surprise or a reminder. Either way, the knowledge you gain will be valuable so without further ado, here are some life lessons from Kanye's tweets to apply to your music career. 
We are all great artists. I said something ego driven in the Charlamagne interview that I'd like to update. I said I was the greatest artist but we're all great artists.

— KANYE WEST (@kanyewest) April 30, 2018
  
That one time on the internet when Kanye spazzed on Charlamagne.... is one we will never forget. Looking back on the interview, there are clearly some contrasts to the Kanye we are seeing now. Making those connections won't be necessary at this time (although it would be interesting). The point instead is to drive home an important point about acceptance. Perhaps we can't look past certain traits about trending artists such as J Cole or Smokepurpp, but as individuals we can apply the experience to ourselves in a way that makes sense. Showing love to your community proves to be the most effective way to gain support and recognition as an entrepreneur. Weather you are hosting a charity drive festival or lending sugar to your neighbor, giving back is crucial for your overall growth physically, mentally, and spiritually. Keep in balance the fact that you have room to develop and yet, no time to waste! All falls down when you create a plan of total domination only to find out you were last on the priority lists of friends who promised to support you. If you reciprocate the love you receive, more people will be interested in supporting you as an artist.
Trust your feelings. Stop thinking so much

— KANYE WEST (@kanyewest) April 28, 2018
 Taking your time on a project weather it's a song or important speech, can make or break the outcome of it. Sometimes the idea of perfection or lack thereof can get in the way of completing what you've started. It can even destroy the concept altogether. From our interpretation of this iconic tweet from Ye, we can pretty much put it straight forward: Don't overthink your art. Proof that you can make a hit song without spending days on small details is everywhere in the music industry. The rappers and artists we consider "gatekeepers" of hip-hop almost never write their songs. If you read Gucci's book The Autobiography of Gucci Mane, he wouldn't even allow producers to finish a beat before he demanded to start recording! Check out some tips we have for how to be more efficient in the studio. A good way to keep yourself motivated is to go back to that feeling you had before you started. Also, don't let the opinions of others discourage your creative process. It's nice to have people give you real-time critique, however, if you aren't confident enough in yourself those same opinions can lead you astray and left confused on what kind of artist you want to be. 
I no longer have a manager. I can't be managed

— KANYE WEST (@kanyewest) April 25, 2018
 A lot of you reading this article are most likely independent underground music patriots so this tweet will be relevant to you on some basic level. If not, we are still going to cover this point in hopes that you'll gain insight into the industry. As a community who strives to give you the best quality knowledge we kindly suggest that you stop asking for help. For perspective, consider people such as Chance The Rapper who is recognized as the first independent artist to ever receive a grammy. His story is an example of someone who, despite all obstacles, never accepted a handout. This means he never went out of his way looking for someone who could lend him a couple million to promote his projects and shows. His testimony is one that speaks volume to our current generation of artists who sign 360 deals and expect long term fame and fortune. The easy way out doesn't always mean the best way.  Having a manager doesn't guarantee you'll benefit enough from the relationship to achieve what you've always wanted to. Although, if you trust someone enough to be careful about your assets and talent abilities, by all means take the risk. It might take going through a lot of bad managers to realize who you need has been looking in the mirror.
Everything you just read was written in the spirit of Kanye West's twitter rant. His concepts inspired many and turned off others. Since you can't please everyone with your point of view, the best way to take in this stream of consciousness is to simply marinate in it; live in it, and maybe question it. Per individual, we'd love if you could relate to some degree. Kanye put a fire in our hearts at least once, especially if you're a true Kanye "stan". Choosing to keep a positive outlook on yourself, your career, and even your art can have a powerful effect on your path to success. Delve into your strengths and weaknesses. Face your fears and don't give up. Love is the most prevalent message throughout Kanye's tweets which can be used to evaluate a lot of these ideals. From the perspective of an artist, loving what you do is at the core of motivation and creativity. Being confident steers the invisible artist vehicle to its final destination. Whatever that place may be, stay true to the vision even if it means sacrificing valuable items or people. Years from now, you will hardly remember what you lost in the process as everything you worked for has come back ten-fold.